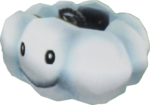 Cloud 9 is a kart part that can be chosen in Mario Kart 7. It is primarily the signature kart part for Lakitu, but it can be used by any other character. This kart part hasn't appeared in a recent Mario Kart game yet.
Description
The Cloud 9, as its name implies, looks like a cloud. It is very poofy, being a light gray (almost white [but not close enough to be called white]), and it has little traces of blue along the creases. On the front of Cloud 9 is a smiley face, so it makes this kart resemble Lakitu's cloud that he flies in. The wheels are interchangeable, and the seat is black, along with a dark steering wheel. The name references the phrase "I'm on cloud 9."
Stat boosts
Speed: -0.5
Acceleration: +0.25
Weight: -0.25
Handling: +0.5
Off Road: 0

This article is a stub. You can help Mario Kart Racing Wiki by expanding it.

Community content is available under
CC-BY-SA
unless otherwise noted.