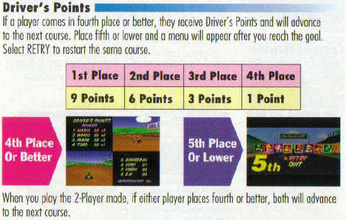 In the Mario Kart series when the race/battle is over in Grand Prix/Vs./Battle mode, then you score Driver's Points based on your performance. Driver's Points are awarded to the players who crossed the Start/Finish Line ranging from 1st to 12th place, or when you pop your opponents' balloons in Balloon Battle. The maximum amount of points in Grand Prix mode range from 36-60 in the cup and up to 160 in the All Cup Tour. For VS. races in Mario Kart DS, Mario Kart Wii and Mario Kart 8, the maximum amount of points range from 320 to 480 if you play all of the courses. The players with the three highest scores will receive trophies based on how many points they have at the end of the cup. If you have at least 52 points in Mario Kart Wii (54 in Mario Kart 8), then you'll be eligible to receive Star Ranks (falling off the course too many times may cancel this).
Value
The value of the points varies from game to game and here's how it breaks down in Grand Prix mode:
1st: 9
2nd: 6
3rd: 3
4th: 1
5th or below: 0
Maximum: (SMK & MKSC): 180 (MK64): 144
1st: 10
2nd: 8
3rd: 6
4th: 4
5th: 3
6th: 2
7th: 1
8th: 0
Maximum (Double Dash!!): 160 (DS): 320
Mario Kart Wii (Vs. Mode works the same way)
1st: 15
2nd: 12
3rd: 10
4th: 8
5th: 7
6th: 6
7th: 5
8th: 4
9th: 3
10th: 2
11th: 1
12th: 0
Maximum: 480
1st: 10
2nd: 8
3rd: 6
4th: 5
5th: 4
6th: 3
7th: 2
8th: 1
Maximum: 320
1st: 15
2nd: 12
3rd: 10
4th: 9
5th: 8
6th: 7
7th: 6
8th: 5
9th: 4
10th: 3
11th: 2
12th: 1
Maximum: 480
Note
Community content is available under
CC-BY-SA
unless otherwise noted.