Dry Bones is a subspecies in the skeletal form of Koopa Troopa. A driver in a few Mario Kart games, after appearing as Mario's enemy in his many previous adventures. He has appeared in Mario Kart DS and Mario Kart Wii as an Unlockable racers, and as a starter character in Mario Kart 8 Deluxe, he was confirmed in the reveal trailer for Mario Kart 8 Deluxe. He usually adds a great handling, acceleration, and mini-turbo boost to his Karts, but as a consequence, they have low top speeds.
Characteristics
Dry Bones is a skeletal version of the Koopa with very light grey bones. His gloves and boots are a pale teal-like colour, with the underside of his boots a brownish orange. The back of his shell is grey with cracks, and The front of the shell acts as his rib cage too. Dry Bones's mouth has sharp, fang-like extrusion, unlike the normal Koopa, and Dry Bones's eyes are gaping black eye sockets with yellow pupils. His arms, legs and tail are just bones and bend normally despite the lack of joints.
Vehicles
Staff Ghost Tracks
How to unlock
Mario Kart DS: Win the 50cc Special Cup.
Mario Kart Wii: Win the 100cc Leaf Cup or play 1,050 races.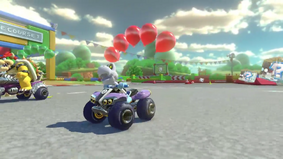 Trivia!
While Dry Bones doesn't appear as a playable character in Mario Kart 8, Dry Bones appear as obstacles in Bone-Dry Dunes. Dry Bones (as a playable character) returns in Mario Kart 8 Deluxe and the Dry Bones are still there in Bone-Dry Dunes.
Although Mario Kart DS was released after Mario Party 7 and Mario Superstar Baseball were, his voice actor, Toru Asakawa, who also voiced King Boo, did not voice him in the game. This is likely due to the voice clips in the game being reused from Mario Superstar Baseball.
Gallery