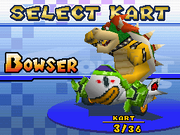 The Hurricane is Bowser's unlockable kart in Mario Kart DS. It resembles the Koopa Clown Car combined with a dual-engined plane.
Statistics
It is has the second highest top speed in the game, rivaled only by ROB-BLS, but this is balanced by its low acceleration and handling. It has a high drift, easing corner power-sliding but discouraging snaking.
How to unlock
Like unlocking other third karts, one must beat the 100cc Special Cup.