Koopa Cape is a track in Mario Kart Wii and a retro track in Mario Kart 7. It is the second track of the Star Cup in Mario Kart Wii, and in Mario Kart 7 it is the first track in the Lightning Cup.
Track Layout
Mario Kart Wii
In Mario Kart Wii, Koopa Cape begins on a high cliff built into a mountain. A twisty road with Goombas and grass is followed by a sharp turn leading to a river which can speed the racers up. After this river is an underwater tunnel designed like a large pipe. It has spinning electric bars called Koopa Zappers that can electrocute players in the same way as a Thunderbolt. After this is a rocky section with a bridge over a waterfall. Using a mushroom, it is possible to zoom through the water and save some time. Directly following is the finish line.
Mario Kart 7
In Mario Kart 7, the ramp that leads to the river is now a gliding ramp. Also the tunnel's top half has been removed; flooding it with water, making it an underwater section. The Koopa Zappers are removed and now Cheep Cheeps swim toward the racers; acting as an equivalent obstacle.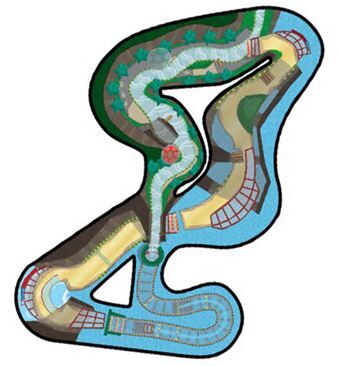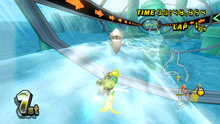 Staff Ghosts