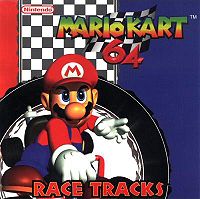 Mario Kart 64 Race Tracks is a complimentary soundtrack that accompanies the game of the same name, Mario Kart 64. This CD/cassette is the American variant of the Mario Kart 64 Original Soundtrack (which was released in Japan). The CD holds music from all 16 tracks in the game, opening title sequences, menus, and much more... it amounts to a total of 29 tracks.
Kenta Nagata, an accomplished Japanese composer who's worked on other Mario Karts was the sole writer of all 29 songs. Mario Kart 64 Race Tracks was released on April 1, 1997, a few months after the release of the second Mario kart game.
Soundtrack List
Main Tracks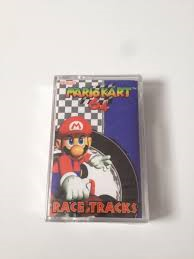 Mario Kart 64 Theme (1:00)
3 Raceways / Wwario Stadium (3:01)
Moo Moo Farm / Yoshi Valley (2:22)
Koopa Troopa Beach (2:33)
Kalimari Desert (2:46)
Toad's Turnpike (3:16)
Frappe Snowland / Sherbet Land (2:34)
Choco Mountain / Battle Arenas (3:27)
Bowser's Castle (2:44)
DK's Jungle Parkway (1:40)
Banshee Boardwalk (2:03)
Rainbow Road (4:48)
Star Power (0:54)
Setup / Kart Select (1:11)
Winning Results (2:04)
Losing Results (1:50)
Time Trials Results (1:40)
Trophy Presentation (1:58)
No Trophy For You (1:02)
Victory Lap (2:53)
Bonus Tracks
Start Your Engines (0:22)
Finish Trial (0:18)
Final Lap (0:29)
Finish First (0:26)
Finish OK (0:21)
Finish Out (0:24)
Finish Last (0:14)
Voice Collection (6:38)
Trivia!
"Race Tracks" is meant as a pun on the racing aspect of the game... a race track can be either be considered a course or a track as in soundtrack.
Mario Kart 64 Race Tracks has 8 fewer selections than the Mario Kart 64 Original Soundtrack (it has 37, mainly getting the extra tracks from Character voices.)