The immense popularity of the Mario Kart series has prompted companies and corporations to release Mario Kart Merchandise, consisting of miscellaneous collectibles, trinkets, clothing, and other merchandise. Anything that is not a Mario Kart game or accessory (such as the Wii Wheel) is considered as such.
amiibo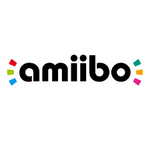 Main Article: Amiibo
Arguably one of the most successful and recent merchandise, amiibo are character collectibles created by Nintendo that can be used to unlock special data in games for the Nintendo 3DS, Wii U, and Nintendo Switch consoles. A small, unique code on the bottom of the platform that the toy stands on transfers the data, and a few games can even store data onto the amiibo.
Building Toys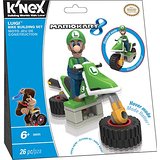 K'Nex™ is a construction toy company building Mario Kart toys, making series after series and releasing replicas of tracks. These include the following:
Wide assortments of Mario Kart racers, primarily from Mario Kart Wii
Mario Kart Wii Track Pack
Mario Kart Wii Bowser's Castle Ultimate Building Set
Mario Kart 8 Thwomp Ruins Building Set
Many Bike and Kart building sets, usually coming with a character. They feature Mario Kart Wii, Mario Kart 7, and Mario Kart 8 vehicles.
Clothing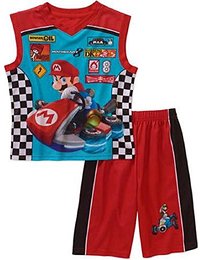 Not as many Mario Kart shirts have been made or at least worn as the main Super Mario series. These include the following:
Kart Toys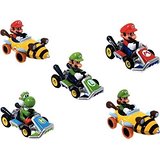 As Mario Kart is a racing game, a plethora of Mario Kart car toys exists. Most toys have characters attached to the vehicle, and a few are even RC, but they are expensive. The following is an incomplete list of official toys that have been released:
Keychains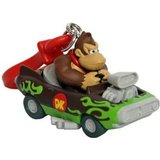 Almost all keychains feature racers, karts, or items. These include the following:
Plush
Like Mario Kart shirts, not many have been made or at least seen. Those that are include the following:
Gallery