Mario Raceway is the last track of the Flower Cup in Mario Kart 64 and the last track in the Shell Cup in Mario Kart Wii, being the sequel course to Luigi Raceway and the prequel to Royal Raceway. It is a Mario Circuit course in the Mario Kart series. It has many Piranha Plants and green grass. It also features a large green pipe and two sand fields. It is a short course with many shortcuts and corner cuts, including a ramp where tricks can be done off of (in MKWii only). It is commonly used for Time Trials, and the best time for this track can be accessed by pressing R on the title screen. Times under 1"30 cause the time to flash. In Mario Kart Wii, the Staff Ghosts for the track use Baby Mario.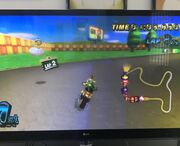 Trivia!
Pressing R on the title screen for Mario Kart 64 will show the Time Trial record for Mario Raceway.
This is the only Mario Circuit course (alongside any other raceway track in the game) to have a replacement for the word "Circuit" in the track's name.
In the Japanese version of Mario Kart 64, it was named "Mario Circuit" instead of "Mario Raceway".
The Prima Guide for Mario Kart Wii refers to Mario Raceway as Mario's Raceway.
Gallery