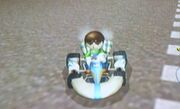 Mii Outfit B (known as Mii Outfit 2 and Mii Plumber's Costume in the Prima Guide) is an unlockable character similar to its "A" counterpart. Both characters are featured in Mario Kart Wii. The only detail that is different is that (for males) it has some Mario, Luigi, Wario, or Waluigi overalls and (for females) it has a Peach or Daisy dress with the skirt cut off. You can change its weight class by going to the Mii Channel and adjusting its sizes. The Mii's voice also varies depending on the color their shirt is. You obtain this outfit by receiving an Expert Staff Ghost Data on all 32 race tracks. It can also be unlocked by completing 5,000 WiFi races, winning 5,000 WiFi Ghost Races, or playing 5,100 races.
Community content is available under
CC-BY-SA
unless otherwise noted.