Moo Moo Farm is the second track in the Mushroom Cup for Mario Kart 64 and the second track in the Shell Cup in Mario Kart DS
The staff ghost setup is Donkey Kong in the Wildlife.
This track is the shortest track in the game.
Layout
The race course itself is very simple; it is essentially a dirt path through some fields. It is a disjointed oval. The track is very wide and bumpy; players can fly over some of the bumps. There are only groups of Monty Moles as hazards, making this course quite straightforward. They pop up and knock over any karts that drive over them.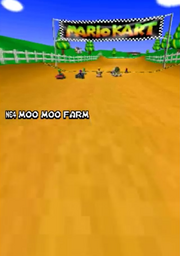 This track reappears in Mario Kart DS as the second track in the Shell Cup. Missions 1-7 and 3-6 take place here. 1-7 features Donkey Kong collecting 20 coins. 3-6 features Luigi hitting 5 Monty Moles with shells. This track shares the same music with Yoshi Valley.
A very similar stage called Moo Moo Meadows for Mario Kart Wii, is based off this stage and features similar elements.