See Nintendo DS (battle stage) for the battle stage with the same name.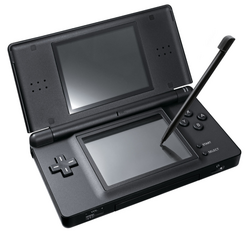 The Nintendo DS is a handheld system made by Nintendo, released in 2004. The only Mario Kart game made for the system is Mario Kart DS. There is A, B, X, and Y buttons, a D-pad, a Power button, START and SELECT buttons, and a volume switch. There are two screens, and the bottom one is a touch screen and a microphone is built-in. The DS Lite was released in 2006. The DSi and DSi XL/LL, both with downloadable games, cameras, an internet browser, and other features, were released several years later. The original DS discontinued in 2010, Lite in 2011, and DSi in 2013.
Mario Kart DS can be played on any of these systems, and Mario Kart: Super Circuit can be played in the Game Boy Advance slot on the Nintendo DS Lite. In Mario Kart DS, there is a battle stage designed exactly the same as the first Nintendo DS.
See Nintendo DS (battle stage) for more details.