Peach Beach is the second track of the Mushroom Cup in Mario Kart: Double Dash!! and the first track in the Shell Cup appearing in Mario Kart Wii. It is the first track to take place on Isle Delfino (the second being Delfino Square). Peach Beach's main features are the tide, which can conceal a semi-shortcut at certain moments, and the Cataquacks, creatures that launch racers high into the air on contact. This area is where the award ceremony takes place. Daisy Cruiser appears in the background of this course. Daisy Cruiser is also the sequel to this course. This course belongs to Princess Peach. This is a really flat course with not that many obstacles, apart from the Cataquacks, but they aren't that hard to avoid if you know how to play the game. The water slows you a little bit on Mario Kart: Double Dash!! while in Mario Kart Wii, it slows you down a lot, however, you can avoid that by just avoiding the water or using a Mushroom when you are in water. Also in Mario Kart Wii you may go out of bounds since if you go too far into the lake, it will count as out of bounds, out of bounds changes on the lake depending on how big or small the lake is at the moment. This can be a problem if you don't notice and may ruin some of the race for you.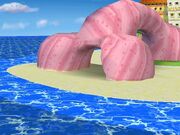 A pipe in this area is included in Mario Kart: Double Dash!!, but not in Mario Kart Wii.
Shortcuts
At the beginning of the track, drift left to enter a pipe. This will take you into the air to get an item box. This, however, is not worth it since you will be in 8th place or something but you won't be too far behind and you'll easily be able to catch up and you'll also get a Double Item Box from the Pipe which will get you two really good items.

✱

 for MKDD
You can use a Mushroom to cut through the light blue water.

✱

 for all games
Back up, and use a Mushroom to clip to a palm tree. It will count the lap. This is actually a glitch.

✱

 for MKWii
Community content is available under
CC-BY-SA
unless otherwise noted.