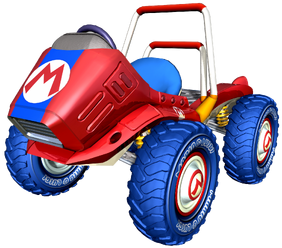 Red Fire is Mario's kart in Mario Kart: Double Dash!!. It is classified as a balanced kart. If Mario is chosen as the player's first character, this is the default kart, unless a heavy character is the second character. This kart is considered to be the perfect choice for beginner player.
Appearance
Red Fire is a medium sized kart. Mario's red M logo is located on the front of the kart and on the center of all four wheels. The colors alternate between red and blue, red being the dormant color in the same manner green is the dormant color on the Green Fire.
Statistics
The Red Fire has average stats in every category.

This article is a stub. You can help Mario Kart Racing Wiki by expanding it.