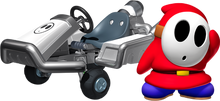 Roller wheels are a small, default set of wheels available in both Mario Kart 7 and in Mario Kart 8.
In both of the games, they excel at Acceleration and Handling, but suffer from low Speed, Weight, and Off-Road (traction). Its stats are identical with the Button, Azure Roller, and Leaf Tires.
History
The Roller tires make their first appearance in Mario Kart 7. They offer the best acceleration and handling in the game, and are also the smallest tires in the game, offering the worst weight boost.
In this game, they appear as small black-gray tires which are finely treaded. The axels are chrome, but kind of a little faded.
They appear again in Mario Kart 8, with a different appearance from Mario Kart 7. Major changes on the design of the Roller wheels are made; they are now a darker shade of red with a yellow axel, instead of black with a silver center, like in the previous installment. In addition, CPU players will never use them.
A variant of the Roller tires, called the Azure Roller, also appear in Mario Kart 8, where they share the same stats. These wheels are simply a different color (sea-blue), so they are basically a bonus in case you want to change it up.
Statistics
Mario Kart 7
Mario Kart 8