The Sponge wheels are a set of unlockable wheels in Mario Kart 7 and in Mario Kart 8.
In Mario Kart 7, they offer good acceleration, but bad speed and weight.
In Mario Kart 8, they excel at acceleration and traction, but hinder in speed, weight, and handling. Its stats are identical with the Wood and Cushion tires.
History
Mario Kart 7
The Sponge wheels makes its first appearance in Mario Kart 7. They offer the 2nd lowest weight boost, behind the Roller tires.
Mario Kart 8
They return in Mario Kart 8, with an improved appearance from the previous installment. Their appearance is now altered to some extent. Their stats have also been modified a bit in that they don't boost acceleration as much, and they're not as light as before. Their handling gets hindered to boost traction, however.
Trivia!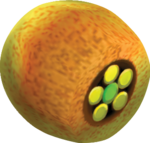 The Sponge Tires in Mario Kart 7 resemble the Slick tires in a way.
Statistics
Mario Kart 7
Mario Kart 8