The Sport Bike is a bike available from the start in Mario Kart 8.
The character's logo is at the center of the front side, and there is another logo next to the exhaust pipe. It changes its varnish depending on its driver.
It offers good acceleration and handling, but bad weight and traction. Its stats are identical with the Comet, the Yoshi Bike, and the Jet Bike.
The bike appears similarly to the Mach Bike from Mario Kart Wii. The design changes depending on the character, for instance Rosalina's bike is orange while Yoshi's bike is green. It can also do inside drifting.
Statistics
Color Schemes
Colors

Decals

Characters

Body

Trim

Blue
Red
Chain Chomp Racing Chains

Bullet Bill Speed Trail



Green
1-Up Racing

Mushroom Piston



Lemmy's Tire Service

Roy Smooth Sounds

Yellow
Orange
Peach & Daisy
Royal Pâtisserie

Princess Orange

Lemmy's Tire Service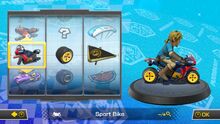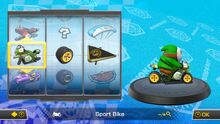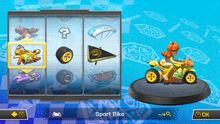 Trivia!
Although this bike is available to use right from the start, CPU players will never use it. Therefore, it is a player exclusive bike.

It is the only starter vehicle in the Wii U version to do so.
This bike is unlockable in Mario Kart 8 Deluxe in the Nintendo Switch version, CPU players Rosalina, Koopa Troop and Larry use it.