The Tiny Titan is a lightweight Kart available to Small racers in Mario Kart Wii. Although it isn't to big in terms of size, the Tiny Titans really is a titan, resembling a monster truck with huge wheels and a large front guard. It has to be unlocked before racing in it, though.
Description
Humungous, well-treaded tires with yellow axels give the Tiny Titan its outstanding height. The body of the kart itself is actually shorter than the wheels. It's hood is slightly rounded, with two main headlights and 3 smaller yellow lights right below the primary ones. The logo of the character is also displayed in the front, along with a stripe design. Beneath the tire guards, large, thick springs are there to help reduce bumping along the track. Above the back two tire guards is a fin, for aerodynamics and design. One more racer icon can be seen on the doors.
Color Schemes
Unlocking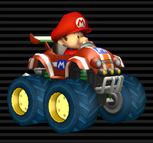 Statistics
Trivia!

The Tiny Titan is believed to be based on Mario and Luigi's car from Famicom Grand Prix II: 3D Hot Rally, the Monster.
In Europe, the Tiny Titans is also known as the 'Rally Romper.
The Magikruiser is the Bike counterpart for this kart.
The Tiny Titan has the biggest weight of all Small vehicles in the game.

It can also outweigh the Super Blooper and all of the medium bikes (except the Dolphin Dasher), but only if babies ride on it (Baby Mario, Baby Luigi, Baby Peach, and Baby Daisy).