The Tri-Speeder (トライスピード) is a kart body in Mario Kart 8 and Mario Kart 8 Deluxe. It is a three-wheeled kart that is painted green and sports an open engine from the front facing northeast, and two pistons in the shape of mushrooms. The Tri-Speeder's stats greatly help in Off-Road situations.
This kart can be unlocked by collecting a random amount of Coins.
Description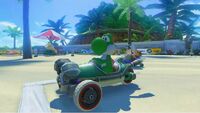 TBA...
Color Variants
TBA...
Statistics
It gives an advantage in weight & traction, but a disadvantage in acceleration & handling. It shares its stats with the Badwagon, Steel Driver, Standard ATV, and GLA. Its speed gives no effect.
| Stat Name | Stat Value |
| --- | --- |
| Speed | 0 |
| Acceleration | -0.5 |
| Weight | +0.5 |
| Handling | -0.5 |
| Traction | +0.5 |
Trivia!
This is the only non-DLC kart body in the game to not be raised above the Monster, Hot Monster, and Cushion tires.
This is one of two vehicles in the game to have only three wheels, with the other vehicle being the Bone Rattler.
This is one of two vehicles in the game to have mushroom pistons, the other being the Flame Rider.
Gallery