The Villager is a character from the Animal Crossing series. The Villager joined Mario Kart 8 on April 23, 2015, as part of the second DLC pack: Animal Crossing: New Leaf X Mario Kart 8. When selected, a drop down menu containing both male and female Villagers will appear. The Villager will also be joined by Isabelle (also from Animal Crossing) and Dry Bowser.
The Villager also appears in Mario Kart 8 Deluxe, however, this time, the male and female Villagers have been separated.
Characteristics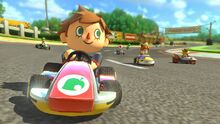 Villager's role in Animal Crossing: New Leaf, as you might have guessed, is a villager. The male Villager has a back shirt with red trim on the sleeves, and shaggy brown hair. His nose is red and is eyes are green. His stats are similar to Tanooki Mario. The female Villager has a red dress with a white skirt and white trim on the sleeves, and a pink ponytail. Her nose is red and her eyes are pink. She has the same stats as Cat Peach.