Wario's Gold Mine is a track first appear in Mario Kart Wii. It is the last track of the Flower Cup. It is themed on a Gold Mine. There are no railings for most of the track. There are also Gold Mine Cars which make racers flip over. This track belongs to Wario. This course is set to return in Mario Kart 8 as downloadable content.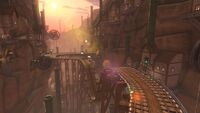 Shortcuts
At the beginning of the course, drive about 1/8 from the start. Next, turn about 350 degrees. After that, use a mushroom to wheelie on a pipe under the bridge. If done correctly, you should bounce off and go through the bridge. Keep driving and hit the fence. Now, turn around and drive to the finish line. The lap should count. This is very useful. The other shortcut is to drive to where the slope is. Use a mushroom to boost under a boost pad. If the shortcut was done correctly, you should end up on the other side.
Gallery
Previous track:
None

Recently reappeared in:
None

Next track:
None
Community content is available under
CC-BY-SA
unless otherwise noted.