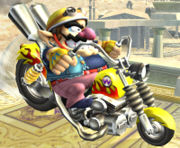 The Wario Bike is a heavyweight Bike in Mario Kart Wii. The Wario Bike did appear in the Mario spinoff seires known as the WarioWare series. The vehicle is designed for Wario, and looks like Wario's official bike used in other games in their respective series.
The Wario Bike is beginner-friendly, having the best acceleration and weight of all heavyweight bikes, good mini-turbo, as well as above-average offroad. In this regard, the bike is great for players who want a heavy bike that isn't harsh on players that have trouble maintaining top speed. However, the Wario Bike has the lowest top speed among bikes, has a poor drift stat, and has outside drift, making it a very unfriendly bike for more advanced players of Mario Kart Wii that rely more on speed and fast cornering than acceleration, weight, and offroad performance. For some reason, this bike didn't return for Mario Kart 8.
Staff Ghosts using this bike
Statistics
Triva!
GCN DK Mountain is the only staff ghost that uses this bike, but doesn't use Wario.