The Wii U is Nintendo's eighth-generation successor to their seventh-generation console, the Wii. The system was released on November 18, 2012 in North America, November 30, 2012 in PAL regions, and December 8, 2012 in Japan. It is the first eighth-generation console released. It has sold 13.36 million units as of September 30 2016 worldwide. As you can see, it is a total failure because it was discontinued in late 2016 for most countries, and early 2017 for Japan.
Mario Kart 8 was released on the Wii U on May 30, 2014. There is an off-screen feature so you do not have to stop playing even if someone else starts to watch television.
Features
The Wii U introduces many new things, one of the most notable being its tablet-like controller, called the Wii U GamePad. It can be used in multiple ways to support games and introducing new ways to play. It is also the first Nintendo console to support high-definition graphics.
Sometimes you can play Mario Kart 8 on the Gamepad.
Miiverse (discontinued), Nintendo TVii (discontinued), and a whole lot of other features that were not present in the Wii are there.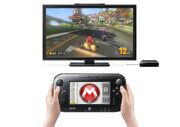 Trivia!