The Wood wheels, also known as Wooden in Europe and Wood Ring (ウッドリング) in Japan are a set of unlockable wheels in Mario Kart 7, Mario Kart 8, and Mario Kart 8 Deluxe.
In Mario Kart 7, they offer good acceleration and handling, but lousy speed and weight.
In Mario Kart 8, they give an advantage in acceleration and traction, but a disadvantage in speed, weight, and handling. Its stats are identical with the Sponge and Cushion tires.
History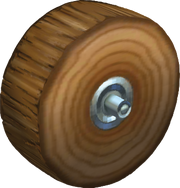 The Wood wheels make its first appearance in Mario Kart 7. They provide a good boost to acceleration and a better one to handling, but their speed and weight are hindered.
Additionally, the Wood tires are the only set of tires to offer a handling boost, but no off-road lift.
They return in Mario Kart 8 and Mario Kart 8 Deluxe. This time though, they look more like wagon wheels, similar to the tires used for the Heart Coach and Bloom Coach from Mario Kart: Double Dash!! and the Daytripper from Mario Kart Wii.
A CPU-controlled Bowser or Koopaling will occasionally use this wheel, paired with the Landship.
Statistics
Mario Kart 7
Mario Kart 8